Customer Reviews — Smeg 50's Retro KLF03BLUK Kettle - Black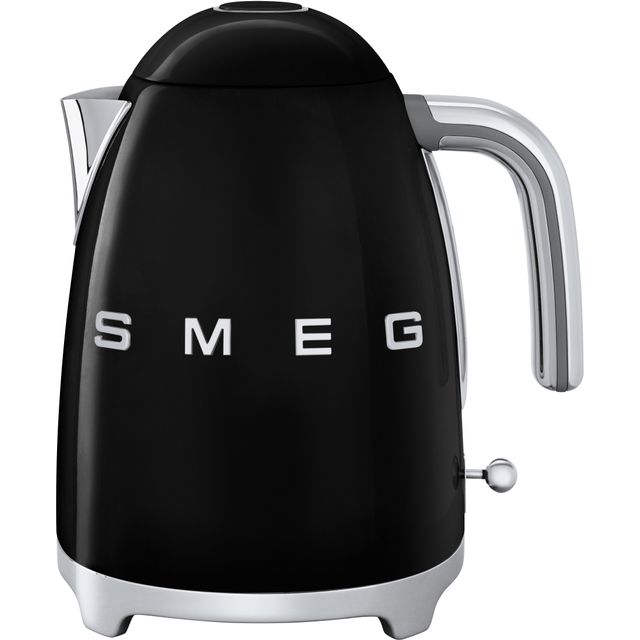 Customer Reviews — Smeg 50's Retro KLF03BLUK Kettle - Black
Smeg 50's Retro KLF03BLUK Kettle - Black
1.7 litre – make up to 7 cups of tea or coffee

3000 Watt power output

Water level indicator shows when you need to refill

360 degree connection for left or right handed use

Limescale filter improves the quality of your drinks
The kettle looks very stylish and does its one and only job and boils water. Other than that it's pretty poor. I the first kettle I received, I had to return because the lid wouldn't open properly when the button was pressed. The second one was a bit better but still needs a good hard pressing to get the lid open. When you lift the kettle you can hear the cheap plastic handle creaking. I would expect amazing high quality when spending £109 on a kettle but this kettle feels cheap and I doubt will last.
The letters came off after 6 months as theyre stuck on, and now after just over a year it's stopped working. Very expensive for what it is
Lovely Looking kettle - really finished off the look of my kitchen - However, a few months outside of warranty a large bubble appeared under the paint/finish and eventually took over half the kettle! I really would have expected it to last a few years longer for the price!
Great if like me you're materialistic.
Lets start with the pro's. It's says smeg and looks great on the kitchen worktop. It boils the water and pours without causing any spills via its stainless steel spout....and that's about it. The con's. When boiling it sounds like a small jumbo jet taking off so it's noisy. The stainless steel body gets very hot and when holding water is very heavy so those with mobility issues will find this kettle difficult to use. The silver base is made from plastic and is horrible when viewed up close. Our first kettle rocked on its base when it first began to boil and after just two days we noticed that the paint had begun to bubble on the plastic lid. That said, Smeg replaced the kettle within days so their warranty works. We have other Smeg items so this kettle looks great alongside them but if I wasn't so materialistic then I wouldn't go anywhere near this kettle.
Hi It looks lovely. I'm just not keen on the quality. The base and handle looks like chrome but it is fact plastic which was a disappointment considering the cost. I have also purchased a SMEG fridge and range cooker. I hope the quality of those items are better.
Nice kettle, poor quality base and handle
Although the body of the kettle is nice, I was really disappointed with the quality of the kettle base and the kettle handle which were made of plastic sprayed silver. I just know this is going to either quickly scratch or lose the silver colour quickly which is not good enough for a kettle that is in the higher price bracket. ??
The kettle looks amazing however, it's style over function. It's fairly heavy, noisy and water level is blocked by the handle. It's does look great tho ...