Customer Reviews — Bosch Stand Mixer with 3.9 Litre Bowl - Silver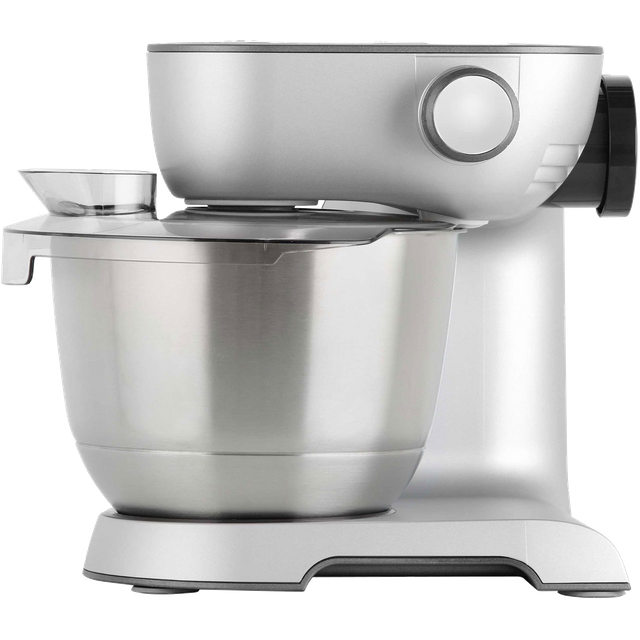 Customer Reviews — Bosch Stand Mixer with 3.9 Litre Bowl - Silver
Bosch MUM59340GB Stand Mixer with 3.9 Litre Bowl - Silver
1000 Watt power output

Flexible arm has 3 positions for a variety of tasks

Professional flexible whisk for perfect mixing results

Pulse function helps reach the ideal consistency

Components are dishwasher safe for easy cleaning
It looks amazing in my kitchen and all the parts are great. Love it.
Great product, amazing accesories
I give this product a 5 star-rating. I initially only needed it for the cake mix function, but now I have started to use all the other accesories and it has made my life so much easier. I absolutely love it and would recommend it to anyone. The only disadvantage is the amount of space it takes to store all the accesories, but it's totally worth it!
Delighted with the Bosch MUM59340GB
I absolutely love it, it is not only modern-looking and compact but sturdy and works like a dream. It comes with plenty of attachments, and additional attachments are available to purchase to cover every culinary need. The Bosch name doesn't let you down. Very pleased with my purchase at a great price.
Doesn't take a lot of space, very practical. Now, the baking is so much more fun! Recommend it!
Very good quality mixer. Multi function very helpful.
Great product. Powerful and not loud. I'm glad it doesn't take too much space.
Excellent, a must have for all kitchens
After much research I decided this was the mixer for me. It was clearly very popular as i waited 3 weeks for it to come into stock and it was so worth the wait. The design of this is so very clever, it is compact and looks great on display in my kitchen. The retracting lead is great, no unsightly cables all over the place. I wish all products came with this feature. It has a very clever storage bag for the mixing tools and grating blades which fits insde the bowl keeping everything tidy and readily available. The addition of attahments makes it a great all round kitchen appliance. I am using it almost daily to assist with simple kitchen chores which never happened with my previous bulky food processor which lived in a cupboard. Great application, highly recommended, a must have for every household.
Beautiful design, so many features LOVE IT!
WOW, what a fantastic product! I promise you when you get it, you will get rid of all your other small kitchen appliances. This mixer is such a space saver! It has so many good quality attachments. From making dough, to whisking, slicing your veg and many more. You can also purchase additional attachments such as storage jars, biscuit, ice cream, pasta & lasagne kit etc. And let's not forget about retractable power cord- not many other kitchen gadgets I can across have this function. The suction pads are very powerful too. The mixer is very well designed considering it's made of plastic, but it's a robust plastic. It's very compact, does not take a lot of space and looks great on the counter. It's not the cheapest of the machines you can find on the market but definitely worth every penny. Absolutely LOVE IT!