Customer Reviews — Panasonic NN-SD25HSBPQ 23 Litre Microwave - Black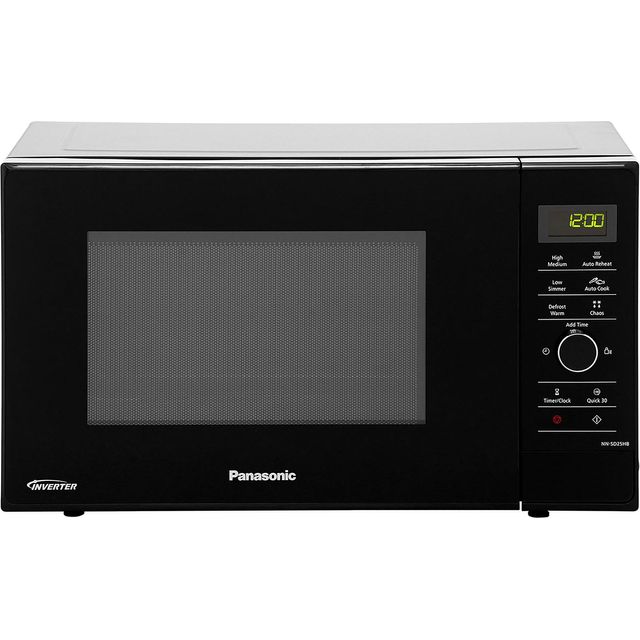 Customer Reviews — Panasonic NN-SD25HSBPQ 23 Litre Microwave - Black
Panasonic NN-SD25HSBPQ 23 Litre Microwave - Black
23 litre capacity - great for small households

Automatic programmes take the guesswork out of cooking

Special function thaws food quickly and hygienically

Lockable control panel for safety

Minute minder alerts you when your food is ready
Very good. Buttons not that clear
A good medium sized microwave, well worth the money.
Panasonic 23 litre microwave
Great little microwave, looks good ,performs very well (1000watts),good value. I am very pleased with my purchase. The only thing I don't like is the knob which feels like a cheap add on (not like other Panasonic microwaves that have push and hide knobs. Giving a Four Star rating just because I'm not impressed by the knob.
Great product 1 one a all issue
Does everything you expect and is far quiter than I expected. 1 small issue that you can not select an 800w power setting. This woud be useful as most product have this power rating in instructions Would purchase again
Does what it says on the tin
I bought this microwave oven to replace my old 20+ year old one. It's like stepping into 21st century all over again. The programs are intuitive and simple to understand, the inside compartment is big enough to fit 2 large plates on top of each other (using a special tray I bought in the past). It's very powerful meaning that reheating takes no time at all. Overall a good product all round.
This is a basic microwave that does what it needs to do well and is easy to use. It's worth noting that it is designed to stand on a worktop rather than within a shelving unit, as it needs 15cm clear over the top to provide sufficient air flow, which limits where you can place it in the kitchen.
Seems to work fine, as you would expect. My only gripe is that the display is set back from the aperture that it's viewed through. This means that, unless you're directly in front of it, the edges of the display are not visible. This is only a problem if the unit is, for example, tucked in a corner and you can't stand in front of it. This wasn't a problem with our old Neff, which was actually manufactured for them by Panasonic!
I replaced our old 800w microwave for this one and apart from being easy to clean, it works perfectly with even cooking.