Customer Reviews — De'Longhi Oil Filled Radiator 2500W - White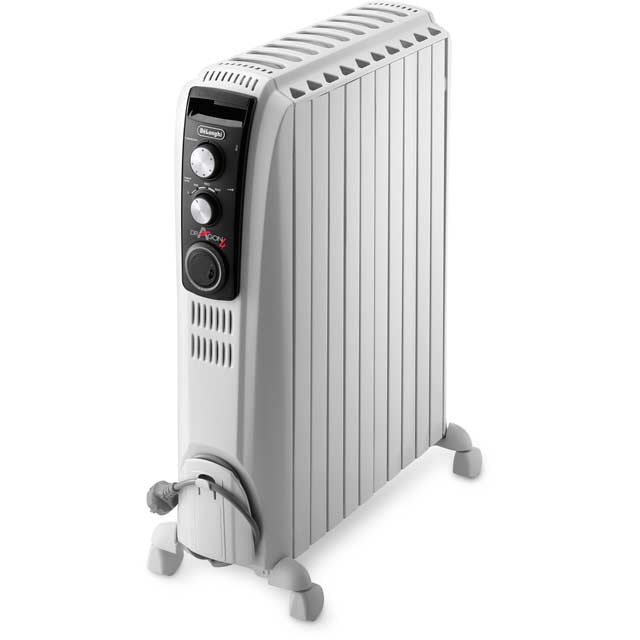 Customer Reviews — De'Longhi Oil Filled Radiator 2500W - White
De'Longhi TRD41025T Oil Filled Radiator 2500W - White
2500 Watts of power

Select from 3 heat settings

Vent system rapidly heats up cold air

Anti-frost design prevents freezing in cold weather

Set the heater to turn on at a time that suits you
Excellent no assembly will heat large rooms with powerful output and built in timer
Super radiator. Heats up a large space very well. Easy to use and set up.
Does all it says on the box and heats the room very effectively, I'm very pleased with this item. The negatives are also as stated on the box ie heats slowly and quite heavy. Your choice!
Bought two of these to heat my bed rooms very easy to use simple to operate and they give out exceptional heat the room was warm in no time. We intend to buy two more one for the living room and hall way would highly recommended pulse they are £73 cheaper than Argos so it's win win time
Does the job - quite thirsty
We went for a top of the line (ish) model with this selection, to replace a probably dangerous fan-based 10 year old heater, which we're having to use to dry clothes in our living room at present. We're saving for a house and renting ysee... This model seems to consume 1.1KW on 'Min', 1.4KW on 'Mid' and 2.5KW on Max' and is thoroughly effective on max, let me tell you. (Measurements are from a wifi-enabled smartplug we bought off Amazon which gives daily/weekly stats and those are from its instant reading, which records power every second or two. This plug lets us schedule the on/off times to keep costs to Off Peak hours, without the need for the timer on this). We're currently trying to find the sweetspot of 'Mid' and a thermostat setting (of 4, 5 or 6, we think) to dry our items without costing too much. Of note: first radiator delivered by DPD had a dent in the side. Online reviews tell you that if you report to Manufacturer, they will say it's not safe/ok to keep, so you must check this on arrival and call AO if any dents are seen. We called AO who organised a replacement - on Sunday - within 24 hours - and via their AO van delivery team. So very impressive service from AO (and worth paying the premium over the competitor pricing, for exactly this reason!). It's hard to trust a courier with these radiators because tbh the packaging is not fit for purpose: the outside of radiator has no protection against knocks in transit, so ordering from someone like AO is a must, so dents can be rectified immediately.
I bought 2 of these heaters. They are perfect for warming up rooms that still have a chill to them like the kitchen and Conservatory. Highly recommended. Was excellent service from AO.com too. ??
De'Longhi Dragon 4 TRD41025T Oil Filled Radiator 2500W - White
I like the attractive look and the fact that the hottest part is shielded from direct touch. I feel it excels in heating up the room to comfort level reasonably quickly and maintaining it. I also like the 'folding feet' that roll-glide on the hard surface in the dining area. I like it so much that I look at it with pleasure during quite moments.
Excellent heater looks good in conservatory very warm andcosy would recommend this product