Customer Reviews — Bissell CrossWave™ All in One 1713 Wet & Dry Cleaner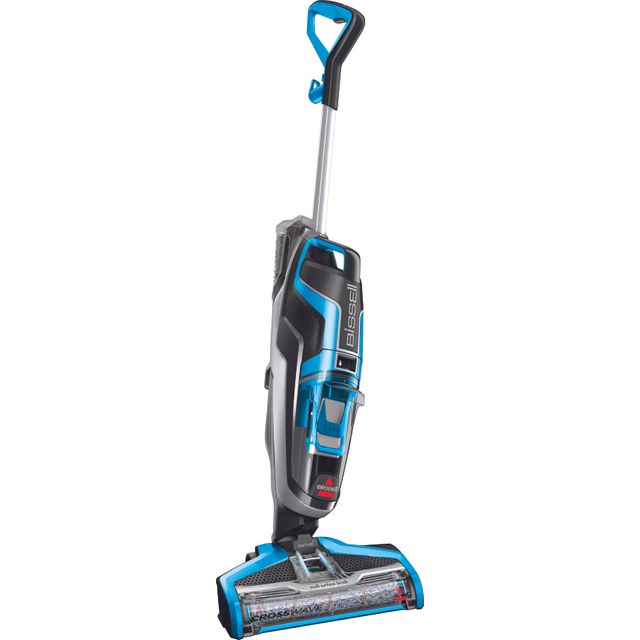 Customer Reviews — Bissell CrossWave™ All in One 1713 Wet & Dry Cleaner
Bissell CrossWave™ All in One 1713 Wet & Dry Cleaner
0.82 litre water capacity

Brush bar rotates to effectively lift out dirt

Wash and vacuum carpets at the same time for great results

Flexible floorhead pivots for greater manoeuvrability

Easy-to-use touch controls
I am so impressed with this machine. Cleaned all the carpets and hard floors with ease Absolutely brilliant!
Makes cleaning much easier!
I have used many steam cleaners in the past but the CrossWave is heads and tails above the rest. After one use the difference was very noticeable. The dirty water was proof that steam cleaner pads don't pick up the dirt....just move it around. Just one small bottle of water with the Bissell cleaner managed to clean a very large space and the floors dried extremely quickly. The machine was easy to assemble and also dismantled very easily for cleaning which was an added bonus. It works well on any floor type, I use this CrossWave on wood floors, tiles and carpets and it is extremely effective and efficient, takes half the time that it did with my old steam cleaner . It is an expensive piece of equipment but the results and time saved more than justifies the price tag.
Bissell CrossWave LOVE IT!
Cuts cleaning hard floors and rugs in half, I'd normally vacuum rugs and hard floors then mop. Instead i used the crosswave and then sat down with a brew and caught up with fb! its just like vacuuming but does it all! I was dubious that either the mop or the vacuum bit would be lacking but it does both fantastically! doesn't leave the wooden floor too wet, and cleans really well with minimum effort, picks up well on the rug. Not too big for storage, lightweight. The cord could be a bit longer but that's my only criticism
Excellent product - bought to replace a steam mop and amazing how much better it cleans the floors and the dirt it removes. Easy to use and simple to clean.
So far I'm very impressed with this product. It's very effective on both rugs and wooden floors and has saved so much more time to clean! It's a little tricky to get into corners but otherwise works well.
I don't know how I have managed all this time without my bexbisal. It has 3 functions vaccume cleaner, carpet shampo9 cleaner and hard floor cleaner for wood and tiles. It is not to heavy that is why I have given it 5 stars.
Took time to master the machine but once I had it's was great
Great service and product
I have been tracking this item for a while. Two friends would not be without it. I breed pedigree cats so need something that does a proper job. This saves time and really cleans my floors. I love it. Picks up fur and cat litter no problem. Quite powerful. Great service from ao too.