Cooling Installation
Our experienced connection team deliver and install hundreds of fridge freezers, fridges, freezers and under counter freezers each day.
Here's what we'll do...
Unpack your new appliance for you, removing any transit brackets.
Connect it to existing water pipes if it needs plumbing in.
Position and level it so it fits perfectly in your kitchen.
We'll take away the packaging.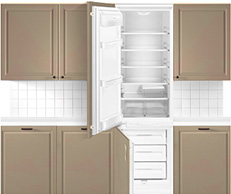 Buying an integrated fridge freezer? 
Our expert installation team can fit your furniture doors to your new appliance. We'll also make sure that it's housed safely into your existing kitchen units, including the doors. If you're replacing an existing model, we'll disconnect and move your old appliance out of the way before installing your new one. This service is available on integrated fridges, integrated freezers and integrated fridge freezer.
Our engineers are NICEIC approved
We are approved by NICEIC, so you can be sure of a safe and thorough installation from our team. NICEIC is the UK's leading electrical assessor. They check that our teams safely install appliances to the highest standard.
Are your cupboard doors in a suitable condition to attach to your new appliance?
Do the dimensions of your new appliance match the appliance which is in your kitchen unit?
Do your kitchen cupboard doors match your new appliance? For example, if you're buying a fridge freezer, is the split type the same? Typically this will either be 50/50, 60/40 or 70/30.
Please note our installation team can reverse the doors on integrated appliances, but not on freestanding.
It's worth noting that most models use a sliding mechanism to attach the cupboard doors, whilst some use fixed hinges. Our team can convert sliding doors to fixed hinges but not hinged to sliding. If possible, we recommend that your new appliance uses the same fixings as your old one.
FAQs on integrated installations

Will you make amendments to kitchen cupboards for example drill / cut holes?

Yes, we'll make slight alterations to existing furniture. Although we recommend that you complete this work, if possible, before we start installation.

Will you hardwire my appliance if required?

Yes, if manufacturer instructions specify hardwiring and providing your electric supply is suitable and accessible. We will not hardwire freestanding models.

What built-in appliances do you install?

We will fit any integrated cooling appliance that can have a kitchen cupboard door attached.
This would exclude models that have water and ice makers as these can't have a kitchen cupboard door fitted.