Customer Reviews — Miele Electric Single Oven - Clean Steel - A+ Rated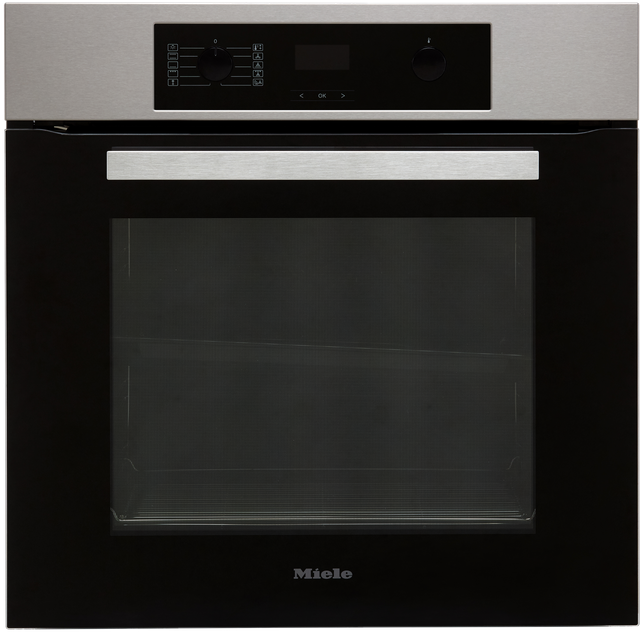 Customer Reviews — Miele Electric Single Oven - Clean Steel - A+ Rated
Miele H2265-1B Built In Electric Single Oven - Clean Steel - A+ Rated
Large 76l multifunctional oven has lots of programmes

Oven heats up rapidly so there's no need to preheat

Precise temperature control for incredible results

Special liners absorb grease to make cleaning easier

Tested for the equivalent of 20 years' use
Love our new cooker delivered on time by ao. Amazing up to date features!
I bought the Miele H2265 based on very complimentary review and test results on the Which website. It comes 2nd in their Best Buy built in oven category, narrowly (2% points) behind a Bosch model that costs double this. We have been so impressed with the oven, from pizza to fresh bread, frozen pastries to casserole, everything has been cooked to perfection. The manual has many useful hints and even tells you which tray, shelf position and setting for every dish / bake imaginable! Very simple to use too, defaulting to the recommended temperature for each mode.
This oven is a very good design and superior build quality. can recommend
Excellent quick heating oven
Easy controls, quick heating and multifunctional oven that cooks to perfection. The grill pan is excellent and very easy to clean (not to mention the narrow gaps, stopping wayward crumbs disappearing!). Only criticism is that it comes with just one wire rack shelf, two would have been ideal.
Great oven big upgrade on previous one.great even cooking simple to use .really pleased with purchase this oven really outshines the competition.
From the moment of installation it looked good and even felt right. The finish and the controls were excellent it was perfect at cooking and did a wonderful roasted vegetables very happy indeed I would not hesitate to recommend. I can see many happy years of cooking ahead well done Mile
Delighted with the delivery and running of my new oven, very easy to use and cooks wonderfully. For the price, it's well worth it for the best brand in the market. Arrived in perfect condition, enough protective packaging without being wasteful. Comprehensive instruction manual, making it easy to use straight away, but offers more detail for fine tuning cooking in the future.
The oven is so easy and great to use. Its a really good size internally. Can bake more then 2 dishes at once with out worrying it won't all cook. And you can also buy various types of things for the oven from Miele or other websites.